Chandler's presentation was straight from the soul. Virtuous, authentic and relevant to today's leadership challenges.
Chandler spoke at our annual Australia-wide company gathering. My employees embraced his motivational speech and he provided our group with concepts that will assist us in a challenging business environment. Chandler was really accommodating and took the time afterwards to answer questions, socialise and inquire about how our business works. He was outstanding and I will be getting him back to speak again.
Best speaker since I have been at Hale!
Chandler immediately connected with his audience through his first hand accounts, honesty and passion bringing to life the physical and psychological determination required to succeed within the Navy SEAL program. Chandler's presentation was inspiring, his question and answer session candid and personable, providing great insight to the challenges he faced and his philosophy in overcoming to succeed within ever changing environments. A passionate engaging presenter who was humble, humorous and inspiring, you have to see this guy!!
Thank you very much for your inspiring presentation at the Year 12 Reward Breakfast. Your willingness to share your personal experience and encourage our boys to continue to strive for excellence through perspective, fellowship and commitment was greatly appreciated. Your experience and remarkable achievements served as a powerful example to our boys and made a strong impression on all of us in attendance. Both the boys and staff I spoke with after the breakfast all shared an appreciation and admiration for you and your work. Thank you once again for your support and encouragement of this event and we look forward to inviting you to return to address our boys in the future.
Hey Chandler, I just wanted to say, thank you for being authentically you today and allowing the space for others to also be. Empowering and allowing others (including myself) to be ourselves in all we are and what we feel, how we think and act is so powerful. And I hope you saw and feel what an incredible impact you've had on the team today. So I sincerely wanted to personally thank you for all that myself and those there today got out of your session. It would not have been the same session if it weren't for you running it and your ability to share your personal stories and vulnerabilities. I wish you all the best and hope that I get to learn again from you in the future.
Chandler, I'm absolutely thrilled to hear you are willing to join the TEC speaker circuit! What an honour and good fortune for WA chairs and members especially, who can plan/book before borders open up. I can't think of any previous first time TEC speaker doing as well as you did. The way you coupled technology with personal storytelling to create thought provoking discussion was new and had a high impact. I truly believe TEC is extremely fortunate to have you join as an "expert resource". Can't wait until our paths cross again.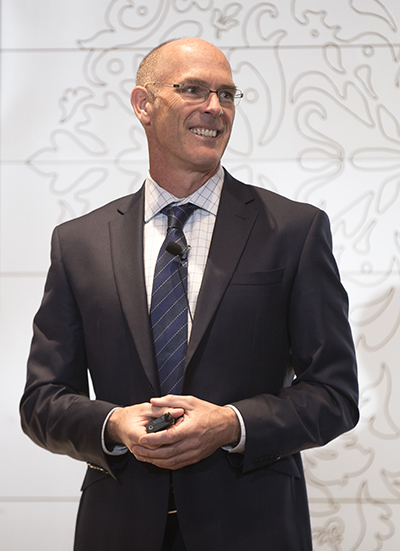 I am really grateful that I have the opportunity to speak about my life experiences and I do my best to understand the challenges that a particular audience face prior to delivering any talk. If there is a particular concept or area that you would like to address, I am more than happy to develop a keynote specific to your requirements.
If you are looking for insight on leadership, safety or to inspire people to be their best, I regularly deliver the following:
You are capable of more than you think – Drawing on experiences from SEAL Training (Basic Underwater Demolition School (BUD/s) I explore three tools (Perspective, Fellowship and Commitment) which can assist the participants face challenge and change.
Safety and Cognitive Bias – During this talk I speak about the dangers of cognitive bias. From NASA engineers to Everest climbers, we are all subject to errors of logic.  This talk provides participants with insight into how they unwittingly take short cuts to and how they might prevent putting themselves and their workmates at risk…
One decision can change your life – During this talk I speak about power of choice through the lens of a SEAL mission that went wrong in Afghanistan. This talk is aimed at providing participants with insight into how they can make effective choices when faced with tough decisions…
Whether I am talking to leadership teams, athletes or high school students the question and answer session after the talk provides a format where the participants can further explore the concepts, challenge me on areas where they seek clarity and gain perspective on how the tools discussed can be applied in their own life.
Speaking Engagements
Corporates - Schools - Sporting Teams
© Chandler Comerford 2021